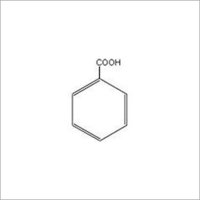 Benzoic Acid Chemical
Product Description
Our offered range of Benzoic Acid are a colorless crystalline solid and a simple aromatic carboxylic acid which is used in the production of pesticide, dye, medicine and cosmetic. We process this using quality-assured quality benzoic acid, procured from the trusted vendor's of the market. The offered chemical is slightly soluble in water, has accurate composition and no adulteration are added. We also avail this in customized packaging in order to meet the requirements of the clients. Purchaser can avail this Benzoic Acid at most affordable rates.
| | |
| --- | --- |
| NAME | BENZOIC ACID |
| FORMULA | C7H8O2 |
| Molecular Wt. | 122.12 |
| CAS No. | 65-85-0 |
| Boiling Pt. | 249oC @ 760 mm Hg |
| Flash Pt. | 121oC |
Specifications of Benzoic Acid :

SPECIFICATION

CP GRADE

BP GRADE

USP GRADE

IP GRADE

Description

Colorless light crystals or Powder odour slight and characteristics

Assay (On Dried Basis) % Min.

98%

99%

99.5%

99.5%

Clarity and colors of solution

-

colorless

colorless

colorless

Water/Loss on Drying

NMT 2%

NMT 0.7%

NMT 0.7%

NMT 0.7%

Arsenic

-

-

-

NMT 2 ppm

Congealing Temperature

-

121-123 D Cent.

121-123 D Cent.

121-123 D Cent.

Heavy Metals

-

NMT 10 ppm

NMT 10 ppm

NMT 10 ppm

Solubility

Freely soluble in ethanol, Sparingly soluble in water.

Oxidisable Substance

-

TO PASS

TO PASS

NMT 0.5 ml

Carbonisable Substance

-

Color NMT
ref solu. Y5

TO PASS

Color NMT
ref solu. Y5

Sulphated Ash

-

NMT 0.1%

-

NMT 0.1%

Residue on Ignition

-

-

0.5%

-
USES OF BENZOIC ACID : The CP grade of Benzoic Acid is utilized as an intermediate in the manufacture of chemicals, dyestuffs, alkyd resins, polyesters, plasticizers, preservatives, rubber activators & retardants. Benzoic Acid, Industrial Grade, is used as a chemical intermediate and as a diverting agent in crude oil recovery applications. Benzoic Acid BP/USP/IP Grades are used as a preservative in food and Pharmaceuticals to inhibit microbial growth, also used in preparation of Toothpaste, Food etc.
Contact Us
Survey No-260/2, Navagam - Sodwadar Road, Navagam (Kardej), Bhavnagar, Gujarat, 364060, India
Phone :+918068344588