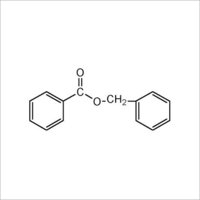 Benzyl Benzoate Chemical
Product Description
Banking upon in-depth domain knowledge and years of vast experience, we have been able to emerge as a reliable organization engaged in offering our clients Benzyl Benzoate Solution. At our sound processing unit, we formulate this solution using best quality chemicals. The offered solution is used for treating the outbreak of lice and scabies infestations. Furthermore, it is also used as dye carrier, solvent for cellulose derivatives, plasticizer, and fixative in the perfume industry. We offer this Benzyl Benzoate Solution at cost effective prices.
NAME

BENZYL BENZOATE
BENYLATE
BENZYL ALCOHOL BENZOIC ESTER
BENZYL BENZENE CARBOXYLATE

FORMULA

C14H12O2

Molecular Wt.

212.24

CAS No.

120-51-4
Specifications of Benzyl Benzoate :

SPECIFICATION

INDUSTRIAL GRADE

AUXILIARY GRADE

BP GRADE

USP GRADE

IP GRADE

Description

Clear Colorless Oily Liquid Boils at about 320 D. Centigrade

Identification

-

-

Passes

Passes

Passes

Solubility

Soluble in Ethanol, Chloroform, Practically Insoluble in Water

Assey % Min.

90%

99%

99%

99%

99%

Specific Gravity

-

-

-

1.116-1.120

-

Congealing
Temperature
(Degree cent)

-

-

NLT 17.0

NLT 18.0

NLT 17.0

Reflective Index

-

1.568-1.570

1.568-1.570

1.568-1.570

1.567-1.569

Aldehyde as
Benzyaldehyde

-

-

-

0.05%

-

Acidity

NMT 0.2 ml

NMT 0.2 ml

NMT 0.2 ml

NMT 1.5 ml

-

Sulphated Ash

NMT 0.1%

-

NMT 0.1%

-

NMT 0.1%

Relative Density

-

-

1.118-1.22

-

-

Wt. Per ml.

-

-

-

-

1.113-1.118g
USES OF BENZYL BENZOATE : It is used in medicine as an antipasmodic & as remedy for scabies. The pleasant odor of Benzyl Benzoate has been valuable property for use in perfumery Industry. Benzyl Benzoate is used in industries as solvent for synthetic Musk and as a fixative. Also it finds use in confectionery and chewing gum flavors. Benzyl Benzoate is also found used in formulations for repelling mosquitoes, chiggers flies etc. It is also used as a plasticizer for both cellulose acetate and Nitro-cellulose.
Packing : 30/225 kgs Nett HMHDPE Carboys/Barrels, Container Loadability : 18 MTS / 20 ftr, Recently Introduced : 1.0/2.5/ 5.0 kgs/its BENZYL BENZOATE IP/BP/USP
Contact Us
Survey No-260/2, Navagam - Sodwadar Road, Navagam (Kardej), Bhavnagar, Gujarat, 364060, India
Phone :+918068344588