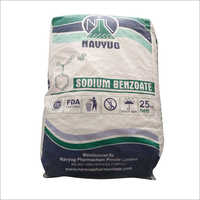 Industrial Sodium Benzoate
Product Description
Our immense experience in this domain enables us to offer the best quality 25 kg Sodium Benzoate Powder to the clients. As the most trusted name in this domain we provide premium quality product which is processed using best composites and advanced techniques. This is used as a preservative in acidic food and to treat urea cycle disorders and hyperammonemia. In addition, quality experts also check the quality of this product on varied industry standards. Besides, we offer this 25 kg Sodium Benzoate Powder at nominal costs.
| | |
| --- | --- |
| NAME | SODIUM BENZOATE BENZOATE OF SODA |
| FORMULA | C7H5NaO2 |
| Molecular Wt. | 144.2 |
| CAS No. | 532.32.1 |
SPECIFICATIONS OF SODIUM BENZOATE :

SPECIFICATION

TECHNICAL GRADE
(Feed Grade)

BP GRADE
(Pharmaceutical
Gr.)

USP GRADE

IP GRADE

Description

White amorphous crystalline powder, or flakes, slightly hygroscopic

Identification

-

It responds to the test for Sodium & Benzoate.

Assay (On Dried Basis) % Min.

98%

99%

99%

99%

Clarity and colors of solution

-

Clear not more intensely color then Ref. Solu Y6

Acidity & Alkalinity

NMT 0.2 ml

NMT 0.2 ml

NMT 0.2 ml

NMT 0.2 ml

Water/Loss on Drying

NMT 2%

NMT 2%

NMT 1.5%

NMT 2%

Arsenic

-

-

NMT 3 ppm

NMT 2 ppm

Heavy Metals

-

NMT 10 ppm

NMT 0.001 ppm

NMT 20 ppm

Halogenated Compounds/lonic chloride

-

NMT 200 ppm

-

-

Total Chlorine

-

NMT 300 ppm

-

-
USES OF SODIUM BENZOATE : Sodium Benzoate is mainly used for preserving Fruits, Jams, Jellies, Pickles, Meat, fish etc. It is also used for preserving fruit juice & fruit beverages. Sodium Benzoate is effective preservative for Jam, Jellies especially when packed in larger wooden containers for shipment to bakeries or other large-scale users. Often to preserve chocolate syrups 0.050% of Sodium Benzoate along with 0.050% of Benzoic Acid is used. Sodium Benzoate Powder or Flakes does not affect the nutrient value of goods & is entirely harmless to human beings. All available published information indicates that the presence of Sodium Benzoate by itself has no effect on the vitamin content of food. However all foods whether preserved with Sodium Benzoate or by some other preservative are subject to chemical changes unless they are packed to exclude air. Sodium Benzoate is widely used in paint industry, cattle feed, mosquito repellent, etc.
Packing : 10 kgs / 25 kgs HDPE Bags with Liner inside, Container Loadability : 14 MTS / 20 ftr Recently Introduced : 1.0/5.0 Kgs SODIUM BENZOATE IP/BP/USP
Contact Us
Survey No-260/2, Navagam - Sodwadar Road, Navagam (Kardej), Bhavnagar, Gujarat, 364060, India
Phone :+918068344588